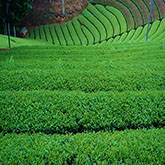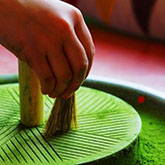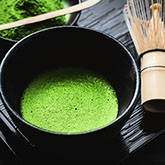 Our rigorous standard of quality means that there is complete trace-ability for each lot of matcha. We source only from farms who can supply appropriate certification and paperwork ensuring the highest level of quality from cultivating and harvesting to processing and packaging. Our matcha is always grown in Japan, never anywhere else.
We conveniently break down our bulk orders into smaller packaging to ensure your matcha stays fresh longer. In addition to bulk matcha, we offer a variety of shelf items that include pouches, canisters, single serves and matcha gift boxes. All of our products are available with custom labels.
As a primary wholesale matcha specialist, we are proud to offer some of the most competitive pricing for the premium quality matcha on our menu. We want everyone to enjoy the wonderful benefits of the finest quality Japanese matcha, so our goal is to offer fair prices.

For our partners, we offer complimentary custom branded marketing materials as well as your behind the counter matcha accessories.
We work closely with almost a dozen different Japanese suppliers, with our goal of offering the perfect matcha blend for each of your recipes (lattes, baked goods, smoothies, superfood treats etc). Unlike most matcha companies who work with a single supplier, you will find an array of different flavor profiles associated with the different geographic locations and micro climates of Japan. As a result, our diversified group of suppliers provides access to best in class matcha whether it is a Culinary or Ceremonial grade, Traditional or Organic. Our unique approach allows us to deliver an optimal matcha experience for all of our partners.




We are not only committed to offering the finest premium Japanese matcha but ensure you're choosing the right matcha, Contact us for more info!